Localization - Getting started
Updated On 28 Aug 2020

2 Minutes To Read
---
Localization is simply the process of transforming and translating the content, look, and feel of a product, website, application, media, or service specifically tending to different segments of audience. This audience segregation in most cases would be done on the basis of language, region, or more.
Most knowledge base providers haven't given localization as much as a second thought, but the reality is that localization is a business's key to unlocking an entirely new revenue center and widen your brand reach in global market
By offering your brand experience and support in a language that feels familiar, both existing and potential customers are much more likely to engage with your knowledge base content and reduce churn rate.
Localization in a Knowledge base
When you have a global clientele for your business, then having a language localized website and knowledge base make more sense. This would eliminate many hindrances faced by your customers in engaging with your single language website for support.
For instance
In Document360 if you have a default language of your knowledge base as English, but you also have added support articles in few other languages like Spanish and Japanese;
The reader would have the option of switching between the different languages using a dropdown at the top right section of your page. Upon choosing the required language from the list, the support articles would be display in the chosen language (If you have translated the articles in the respective language by manual or machine translation).
Editor view
Here is the editor view when you author articles on the Documentation menu using either markdown or WYSIWYG (HTML) editor.
Languages : English (default) and Russian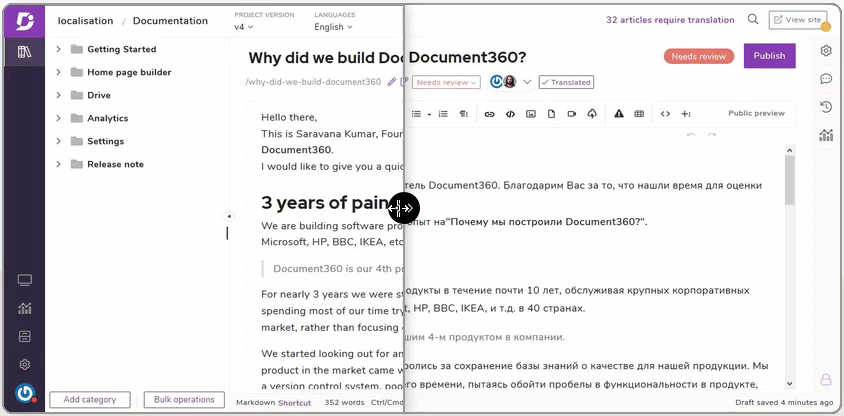 Complete localization
A localized Document360 knowledge base would constitute of the functionalities, articles, and controls in the respective language. This would mean the content is either just translated from the original language or content is modified to better suit the target audience. The graphics, colors, and the aesthetics of your pages, fonts and images can also be modified.
Apart from the content and visual elements, there other parameters like units of measures, currencies, local formats for addresses, dates, communication addresses and more.
A Fully localized Knowledge base resonates with your diverse users because it incorporates relevant culturally local nuance to feel familiar, as opposed to simply using machine translators and replacing the English words with translated text.
A localized Document360 Knowledge base could automatically detect and load in a customer's preferred language. This is enabled based on either their login or browser preferences.
Was This Article Helpful?
---