Inviting or Adding SSO users
Updated On 17 Nov 2020

2 Minutes To Read
---
After successfully configuring the Enterprise SSO (SAML or OpenID) with your project, you can start inviting previously added users or add new users as SSO users.
Adding a new SSO user
It is almost similar to Adding a regular Document360 user, with just one variation.
Click on Settings, under Project Admin click on Team & Security
In the Team members tab, click on the Add team member button
Add the Email, in the Select the user type select SSO user
Select the Role of the member you're adding (Owner, Admin, Draft Writer, Editor, or any custom role you create)
The Security Groups you can add if you have already setup role group with limited feature access in your project
In Documentation Scope, you can provide user permission level (project, version, category) for distinct roles
Finally click on Add button at the bottom, the SSO user would be added to your project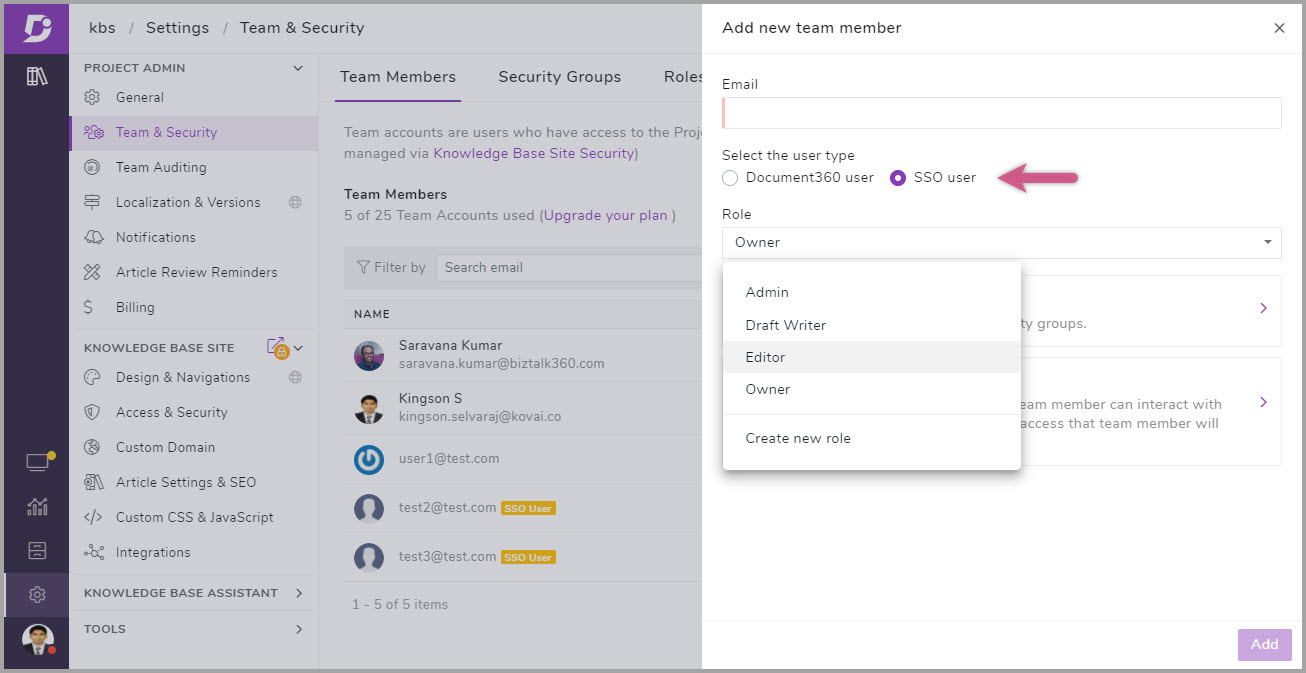 In the list of Team members page, you can distinguish your SSO users with the yellow SSO user tag next to the name.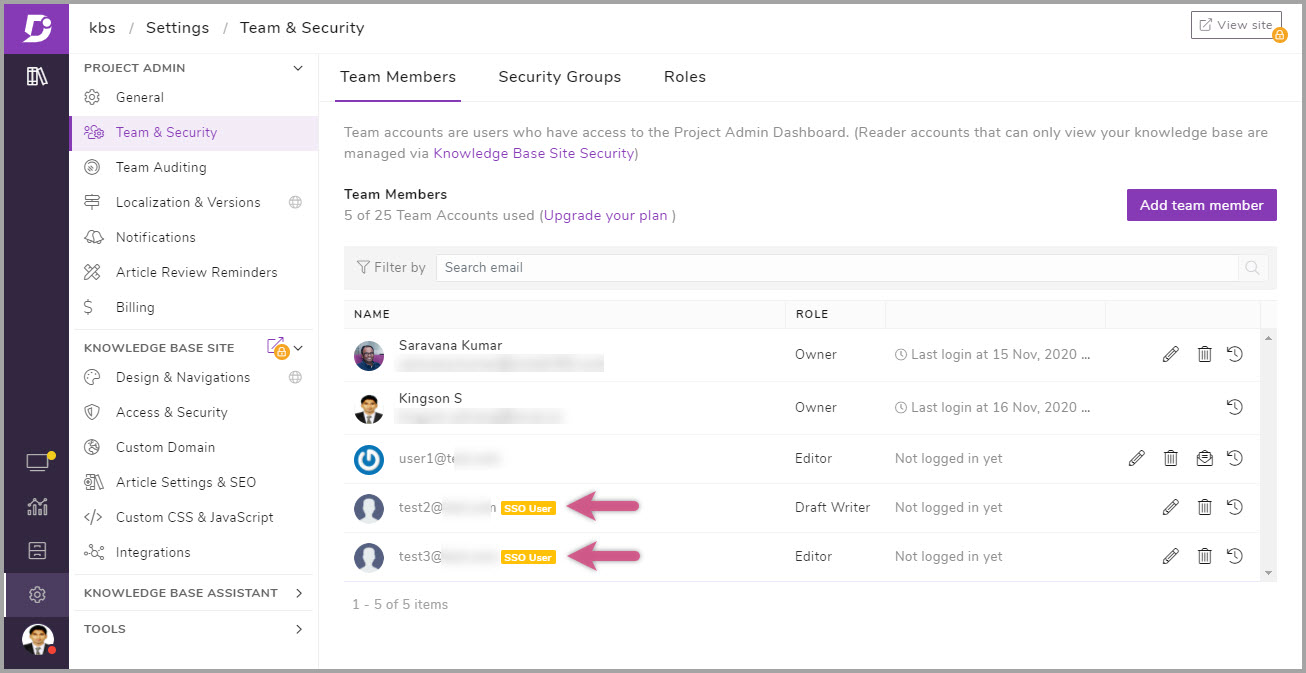 Inviting an existing user as a SSO user
Let's say you have a bunch of existing normal users added your project. You have recently configured the Enterprise SSO feature and you wish to add some or all of the existing team members as SSO users. Here's how you go about it.
Note
The process is similar irrespective of the SSO (SAML or OpenID) you have configured
Click on Settings, under Tools select the Enterprise SSO option
In the configured SSO (SAML or OpenID) you can find the Invite existing users section
You can either select Invite all team members or select Pick and invite
If you select Pick and invite, you can select the members and click on Invite button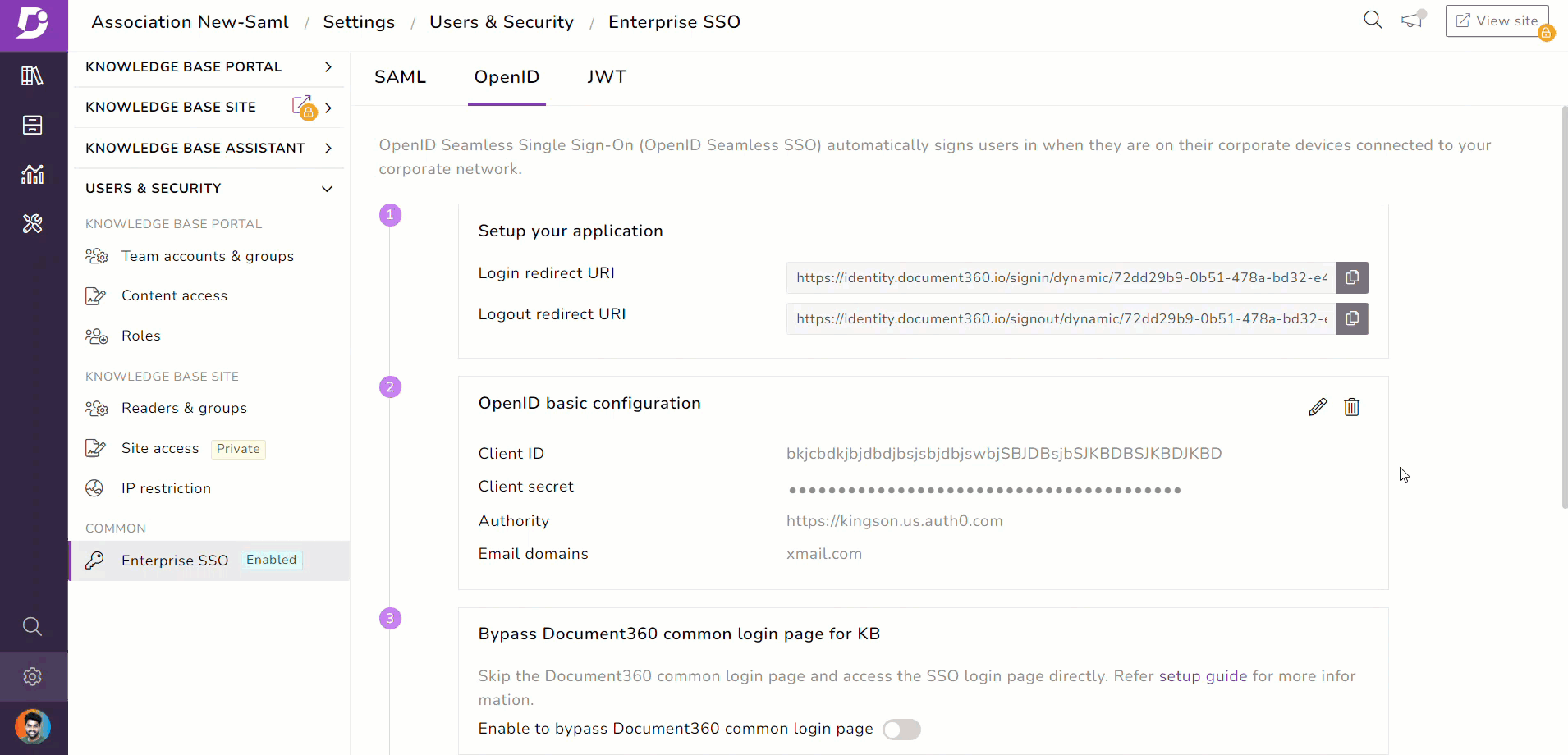 Once a team member has been added, they will receive an invitation email with a temporary password. Once their email is verified, the team member will be able to log in. The invitation email will expire after 5 days and must be resent.
Removing an SSO user
Click on Settings, under Project Admin click on Team & Security
In the Team members tab, you can find the list of Team members in your project
The SSO users would be distinguished with a yellow label marked as SSO user
Select the Delete (trash icon) and select Yes in the confirmation
If the user was a regular user before SSO, then the user would still be a part of the project unless removed again as a normal user
If the user was added as a SSO user, then the member would be permanently removed from the project
You can also choose the Edit option to change roles and permissions of the user
Was This Article Helpful?
---