Slack
Updated On 28 Oct 2020

3 Minutes To Read
---
Slack is a collaborative digital space that helps different teams in an organization to work together seamlessly. The environment is referred by Slack as the Workspace. Slack workspace allows your business to departmentalize communications by channels for group discussions and allows for private messages to share information, files, and more all in one place. You can operate on slack either on the web via a browser or download the Slack desktop application.
But when we consider the capabilities of Slack as a Help authoring tool (knowledge base), they are a step behind. Though they do have a basic knowledge base feature in the form of Slack archives, it's more of an add-on feature.
This is where a dedicated knowledge base platform like Document360 bridges the gap in knowledge management and sharing. Document360 can be effortlessly integrated with your Slack workspace in a couple of minutes by yourself; It's that easy.
With the new Slack integration, you will equip your agents with your knowledge base without leaving your Workspace. Apart from searching for articles, you would be able to create user-friendly documentation; author in Markdown editor for any version or language in your knowledge base from Slack.
Here is an elaborate guide for installation and putting Document360 to use in Slack be it web or desktop application.


---
Basic setup guide
Connecting Document360 to Slack
Go to the Settings menu and click on Extensions under Tools
You can find Slack listed among the other extensions
In the Slack Widget, click on the Add to Slack button

The app will redirect you to Slack to grant us access to your workspace.
Click the Allow button and return to Document360. You would see a success message in the place close to the Add to Slack button
The success message would also display the connected Slack Workspace name
Premium Feature
The Slack extension is a premium feature available in Business, Enterprise, and Enterprise+ plans.
---
Feature highlights
/doc360 Command
Once the integration between Document360 and your Slack workspace is established, you would be able to use the different functions of Document360 with the /doc360 in your conversations either in direct message conversations of in a channel.
Commands
Help


/doc360

<space>

help



Search article


/doc360

<space>

search

<space>

query



Create article


/doc360

<space>

create

<space>

Title of the article

(optional)

Command:

/doc360
<space>
help
The above command helps users by listing out the functions available with the /doc360 command in Slack. The list of commands that appear in the conversation window is only visible to you. You can get an idea and be familiar with these commands for further use if you're a new user.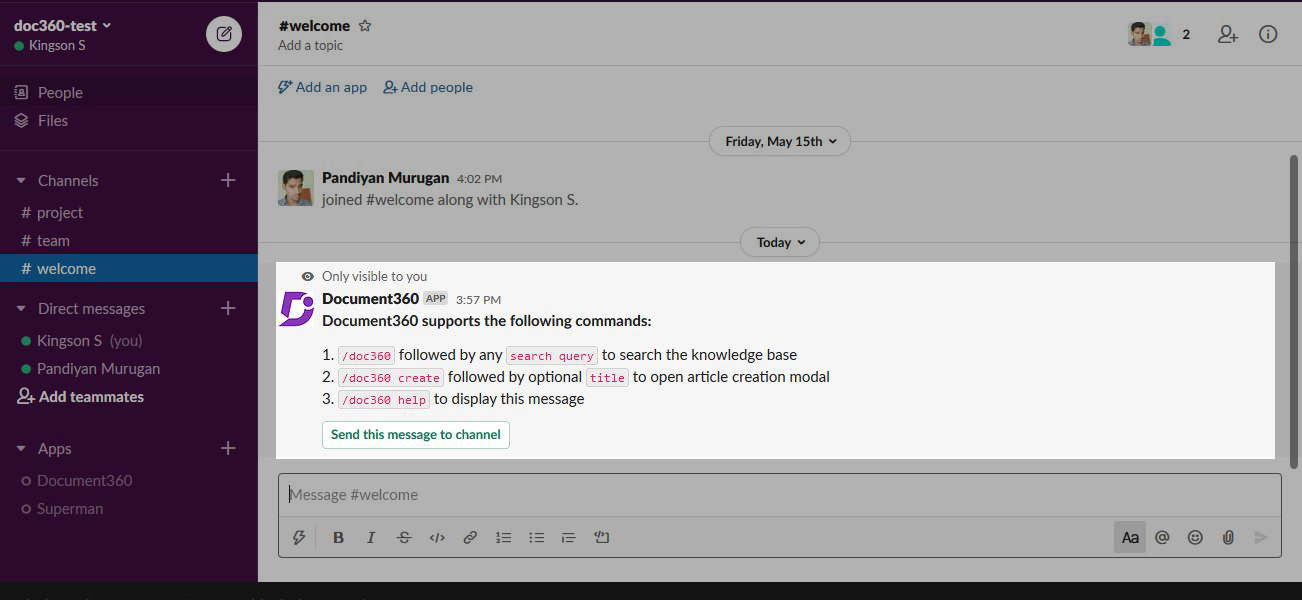 Search and share articles
Command:

/doc360
<space>
search

<space>

query

Once you've successfully integrated Document360 with your Slack workspace, your team members can search for and share support articles in conversations instantly using simple commands. This makes your interactions simpler as knowledge sharing makes it easy to add context to conversations in real-time. Rather than asking someone for information every time you need it or jumping to different tabs if you're using it on the web.
With the new Document360 integration on your Slack workspace, you would equip your agents with all the articles from your knowledge base without leaving the Slack environment. You can also share the searched articles by linking them to your conversation.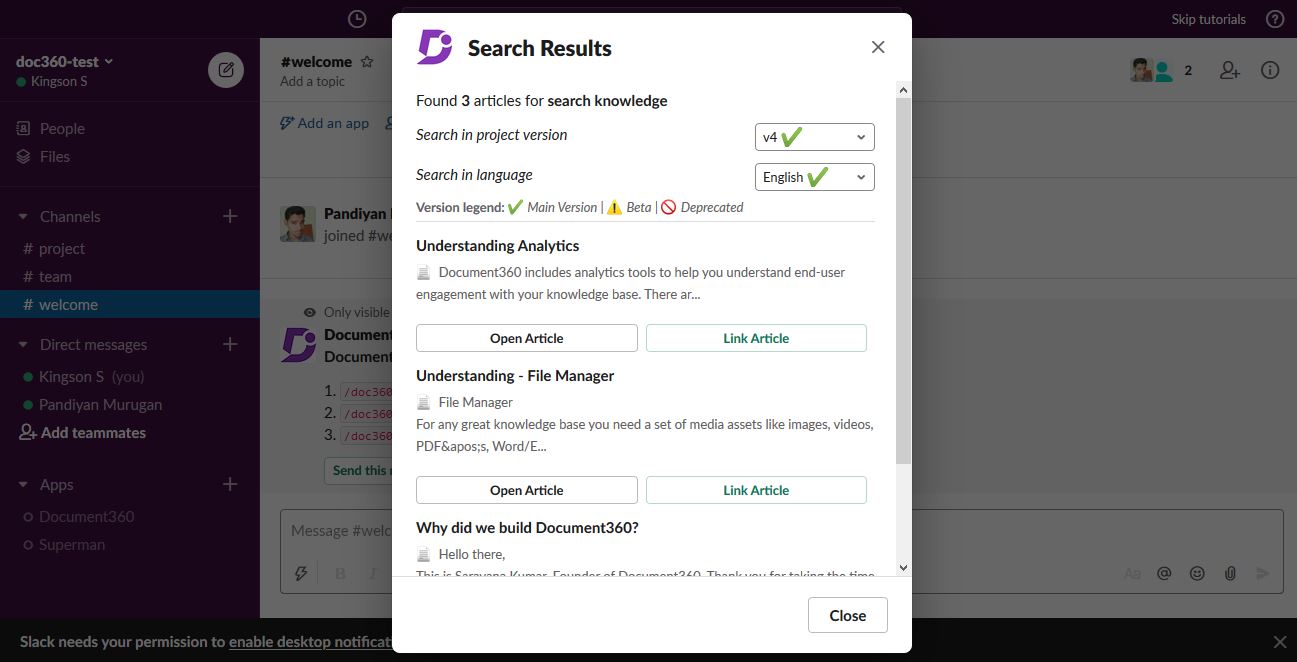 To search for an article during a conversation
Type in the search command highlighted above and click on Enter
Select the version and language of the knowledge base you want to search
The search results would be populated with two options
- Open Article where the article would be opened in a new tab
- Link Article would send the article result in the conversation

Creating an article from Slack

Command:

/doc360

<space>

create

<space>

Title of the article (optional)

Don't find the article you're looking for or you would like to add an article to your knowledge base on the go, this is also possible with the integration. Type in the /doc360 Create command followed by optional title to open article creation modal;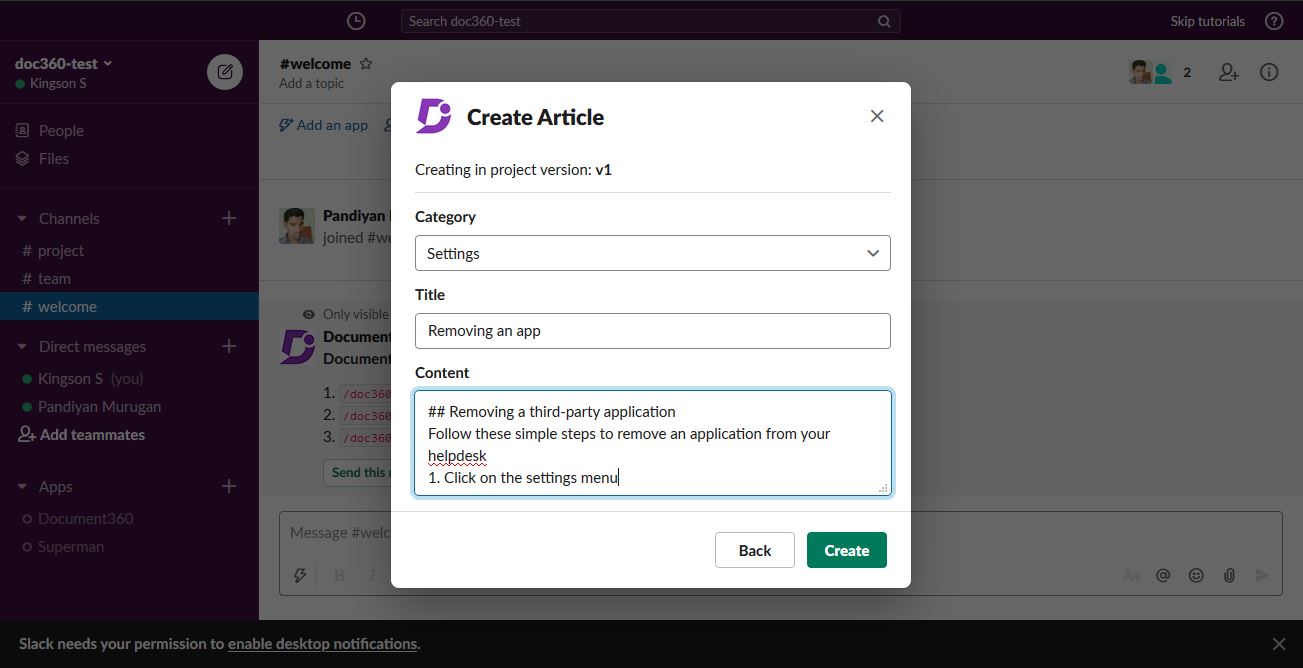 Choose the version of the knowledge base you want to create the article for
Select the category under which the article should be place (You cannot create a new category from Slack. You can only add articles to any existing categories)
Type in the content of your article using the markdown editor
The article would be created in draft state, allowing your editors to review and enhance the article before publishing them on the knowledge base.
---
Removing Document360 app from Slack workspace
Removing an already added Document360 application from the Slack workspace is a simple process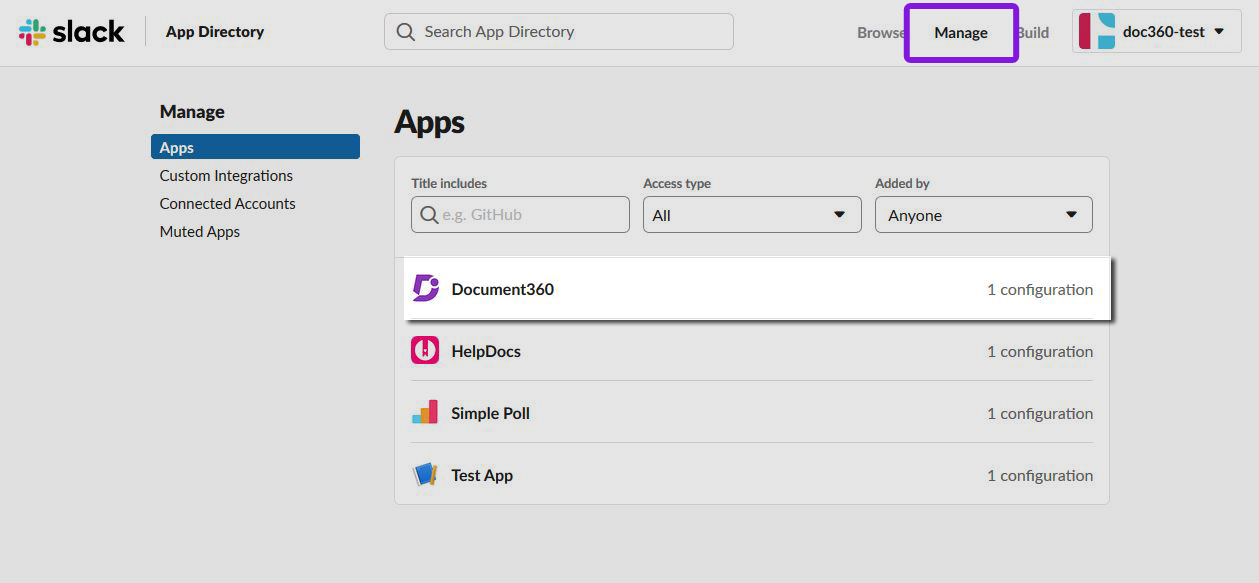 From your Slack workspace, visit Slack's App Directory
Select Manage in the top right
Choose Document360 from the list in the left-hand column
You would be redirected to the Document360 App info page
Scroll down to Remove application and select the Remove app.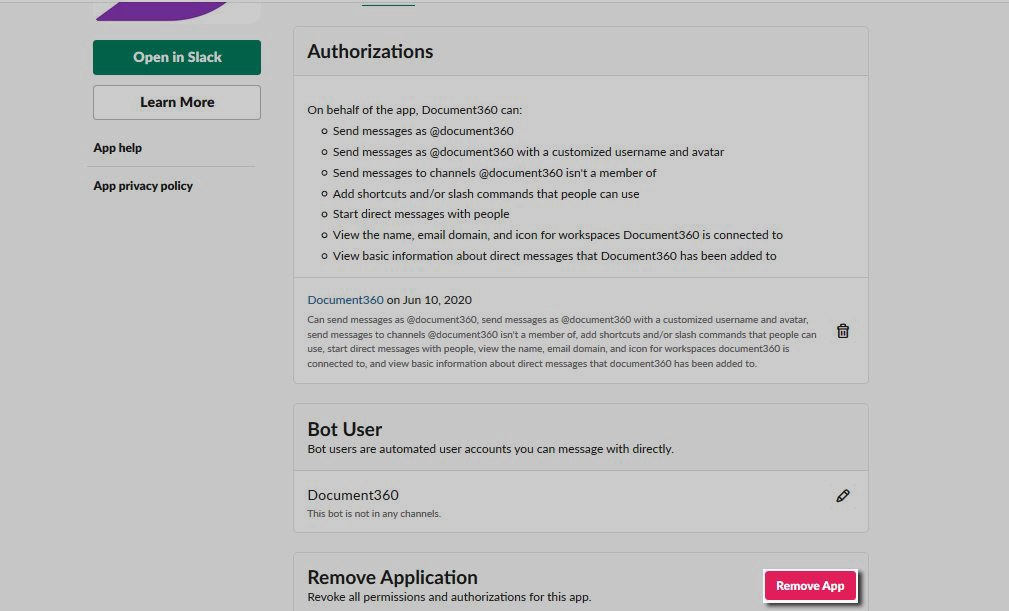 Was This Article Helpful?
---