What is Markdown?
Markdown is a short-hand syntax that styles text, and then converts that text to HTML.
For a list of basic Markdown commands, see Markdown Basics.
Using Markdown in Document360
When you create a Document360 project, the Markdown editor is set as the project's default editor.
For more information on text editor options, see the Text Editor Overview topic.
When using the Markdown editor, you can use Markdown syntax manually while writing or simply format text using the Markdown toolbar.
If you need a quick syntax reference while writing an article, you can view common Markdown commands right in the editor by clicking Markdown Shortcut on the bottom left of the screen.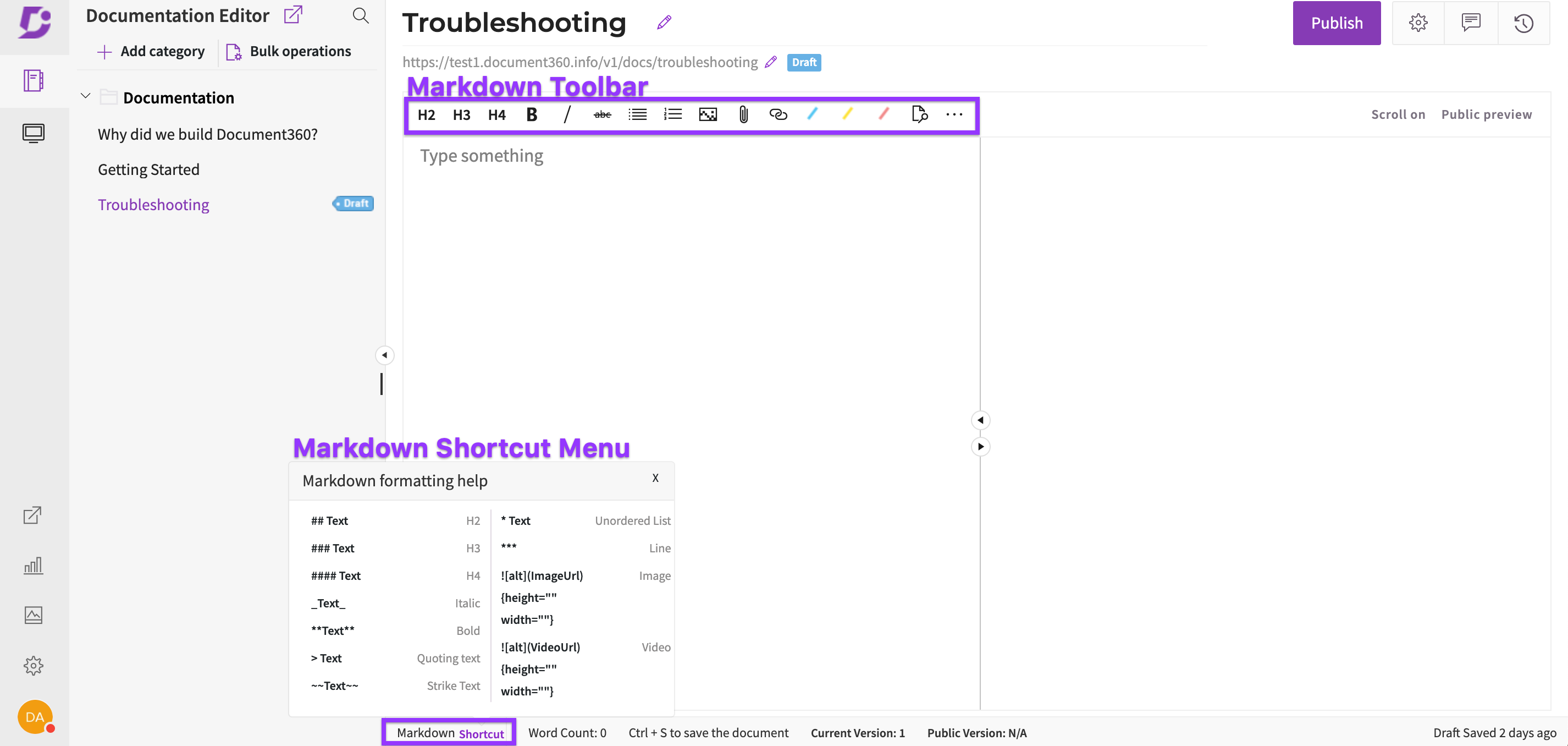 Markdown Toolbar
Use the Markdown toolbar to format your docs without writing Markdown manually.
Heading 2: Uses H2 for the main sections of your article. Items with H2 status will be included in an article table of contents.
Heading 3: Uses Heading 3 for headings within H2 sections.
Heading 4: Uses Heading 4 for headings within H3 sections.
Bold: Text will appear in bold.
Italics: Text will appear in italics.
Strikethrough: Text will appear with strikethroughs.
Unordered list: A list denoted with asterisks for each item.
Ordered list: A list with numbers for each item.
Insert image: Options to insert an image from URL or from the File Manager.
Insert a file: Inserts a PDF or word document from the file manager.
Insert a link: Adds a hyperlink to the selected text.
Info: Displays text in a blue infobox.
Warning: Displays text in a yellow warning box.
Error: Displays text in a red error box.
Find and Replace: Performs a word search within your article and replaces with another word.
Show More: Opens a menu with the following:

Blockquote: Offsets a quote or paragraph with a line.
Line: Inserts a line into the article.
Insert Table: Adds a table into the article.
Insert Codeblock: Adds a code block to your article.
Insert Video: Embed a video from Youtube, Wistia, or Vimeo.
Was this article helpful?
---