Versions
Updated on 06 Mar 2019

2 minutes to read

Contributors
---
This feature is very useful for software projects that have a new version release at frequent cycles. For example, the current version of the product is, say, v1.0 and in the next release, a major revamp is done to the UI and new features are added to the product. Since the UI change is throughout the entire project, most of the screenshots in the product documentation will change. In this case, it is not apt to change the v1.0 documentation since there will be existing customers who will be using v1.0 of the product. The ideal thing to do would be to create a new version of the documentation (say, v2.0) and work on the changes for the new product version.
We built this feature since we faced the same problem with our other product (BizTalk360). After version 7.10, we decided to make a complete change to the UI and add new features for a brand new v8.0 of the product. However, when it came to documentation, there was no option for us to manage the project versioning easily in the tool we were using. We had ~800 articles and we had to completely recreate the 800 articles specific to version v8.0. This just doubled the number of articles in our documentation library.
Project versioning in Document360
By default, when a project is created in Document360, the version is numbered as "v1" and marked as the main version and made as a public version.
To create a new project version,
Navigate to Settings. Select Versions from the left menu.

Click Add New Version button

Choose the base version from which you want to create a copy of the documentation
Provide a version number (e.g., v2)

Warning

Version 0 is not supported

Optionally, you can provide a name for the version. This can be used to identify the version and the purpose why it was created. It can also be the release name.

Click Add to add the new version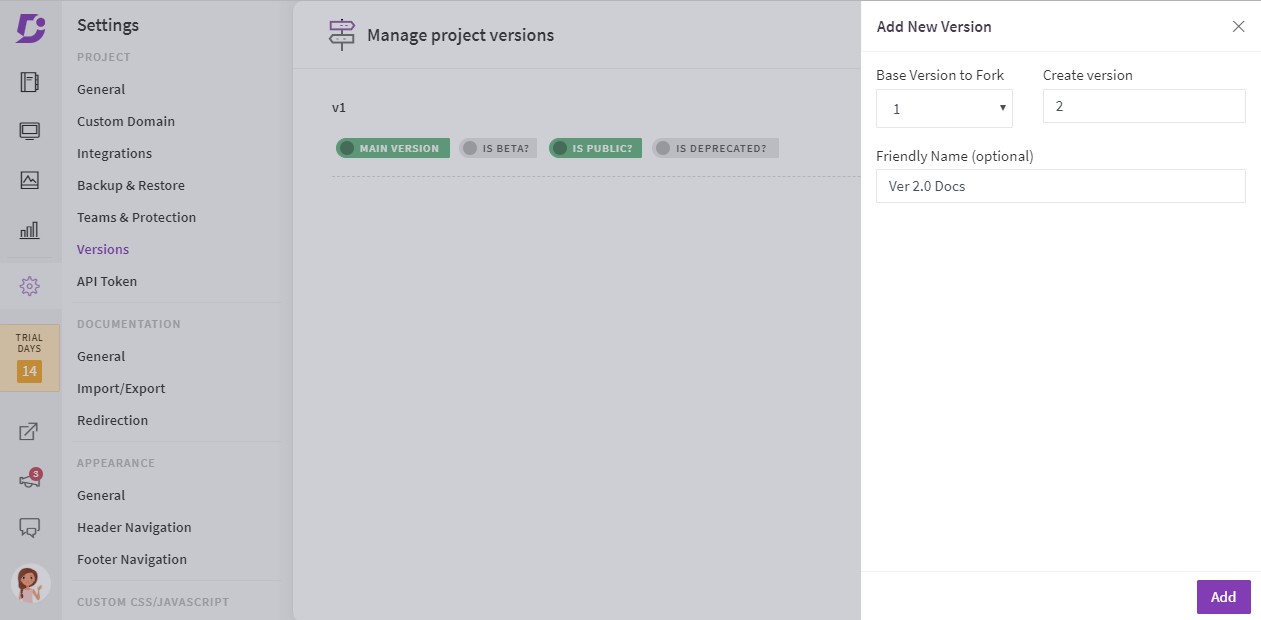 Manage Project Versions
Once a project is created, you will notice that there are different configuration options available such as —
| Configuration | Description |
| --- | --- |
| Main Version | Set the newly created version as the main version |
| Is Beta | Enable this option if your documentation is specific to a beta release |
| Is Public | Enable this option if your documentation should be publicly viewable by your customers |
| Is Deprecated | Enable this option to mark your documentation as deprecated (specific to any old version of the product that is no longer supported) |
Only one main version
You can have only one main version of documentation at a time.
Is Public?
Deselecting the Is Public? option will remove the document from being accessible as the public version. The page will only be visible to the administrators.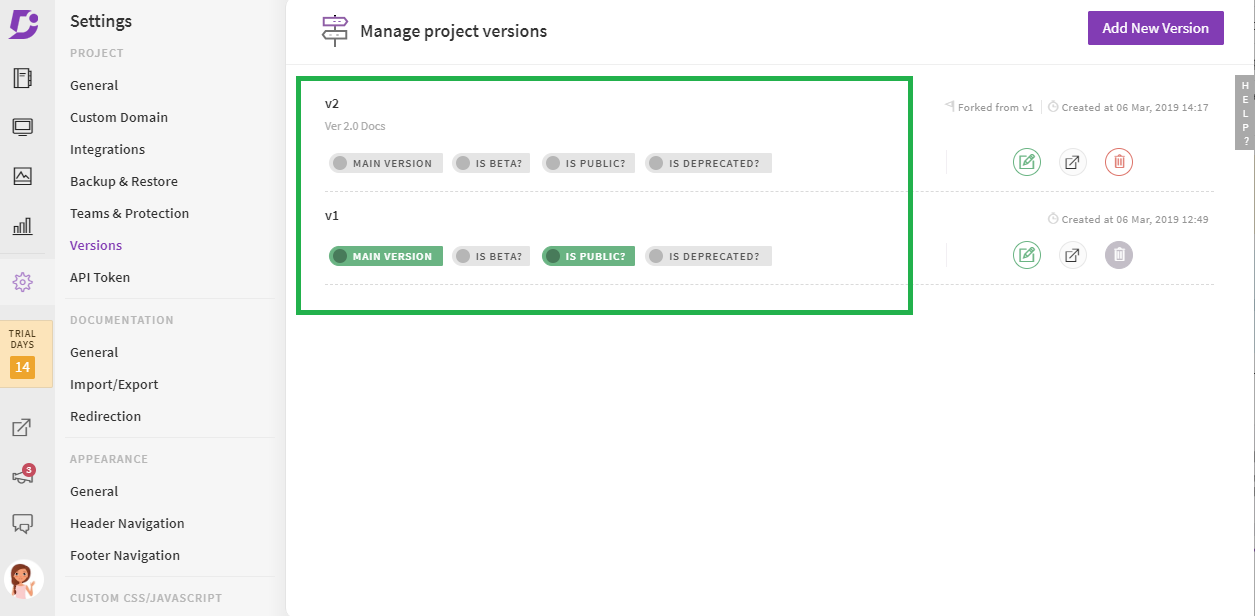 Was this article helpful?
---